For full details on our terms and conditions please contact us.
Carmats2u. UK based car mats factory.
Please read terms and conditions Fully . We can not be held liable for instances where terms have not been read. By placing car mats orders you are agreeing to the terms stated below and terms stated on the webpage of order. It is important that you read the page and know that you are ordering the correct pattern as these items are custom made tailored products to order and therefore we cannot refund for customers mistakes once manufactured. It is Important that you understand this before ordering.
IMPORTANT.
WE WILL MANUFACTURE EXACTLY AS PER YOUR ORDER SO PLEASE ENSURE ORDER DETAILS ARE CORREC. WE WILL NOT ACCEPT RETURNS OR REFUNDS FOR CUSTOM PIECES MANUFACTURED TO ORDER WHEN CUSTOMER HAS ORDERED INCORRECTLY. BY PLACING AN ORDER ,THE CUSTOMER AGREES TO THESE TERMS OF SALE ON CUSTOM MADE TO ORDER GOODS.
CUSTOMER RETURNS CAN ONLY BE ACCEPTED FOR STANDARD UNMODIFIED PRODUCTS RETURNED TO US WITHIN 14 DAYS FROM RECEIPT OF GOODS.
THE CUSTOMER AGREES TO RETURN A STANDARD UNMODIFIED PRODUCT BACK TO US BY "RECORDED DELIVERY" ONLY, AND ALSO AGREES TO PAY A HANDLING FEE OF £6.99.
A CUSTOMER REFUND IN THESE CIRCUMSTANCES WILL BE ISSUED MINUS ORIGINAL SHIPPING CHARGE AND £6.99 HANDLING FEE, IRRESPECTIVE OF WHETHER OR NOT THE CUSTOMER RECEIVED "FREE DELIVERY" WITH THEIR ORIGINAL ORDER .
All car mats are custom tailored and made to order using the choices that you provide on the page, please ensure that you order the correct mats and colour for your car as we are unable to offer refunds for custom tailored car mats ordered incorrectly by the customer that have been manufactured to order
By ordering the customer agrees that they understand this.
PERSONALISED MATS.
ANYTHING OTHER THAN PLAIN MATS.
IF YOU ADD COLOURS, OR LOGOS TO THE MATS THEN YOU HAVE PERSONALISED THEM AND WE HAVE CUSTOM MADE, BE SURE YOU ORDER CORRECTLY AS THESE MATS ARE NOT RETURNABLE UNDER THE DISTANT SELLERS ACT ONCE THEY HAVE BEEN PERSONALISED AND THEY ARE NOT A SINGLE PLAIN COLOUR.
By ordering you have agreed to these terms.
Please remember, We manufacture to what you choose on the options. Therefore these are a bespoke, custom made to order products , If unsure please check with us prior to ordering , as we cannot offer refunds on custom tailored to order mats ordered incorrectly.
By ordering you agree to these terms

Make sure you order correct mats and be sure of your model. Remember, these are made to order tailored mats and we cannot refund once manufactured if you have ordered incorrectly. E.g. if a old model has a 1996-2002 range & the next model is 2002 onwards you need to know which model you have).
It is always best to be sure to contact us if you are uncertain and we can help.
Mats are as described on the page and are delivered to you by Courier, we insure our goods at no cost to you and are able to track all orders.

If we cannot supply a particular product due to stock issues.
We of course strive to supply all products on orders but sometimes stocks run low. In which case we will supply the custom tailored car mats that we manufacture as well as any other products in stock. We will refund the customer for ther product "usually a boot liner as suppliers dont keep vast amounts of each model" We will not hold on to your money, we will refund and then email when we have managed to get one back in for you.

Delivery.
It is the customer's sole responsibility to ensure that they state their correct delivery address on their order. Our system is automated and the mats will be delivered to the delivery address stated on the order. Carmats2u accepts no liability if products are delivered to customer's stated but incorrect delivery address

PLEASE KEEP ALL YOUR ADDRESS DETAILS UP TO DATE.

For security reasons we will only send to the delivery address stated on the original order.

The courier will attempt delivery and give proof that he or she had attempted delivery. By taking an image of the door to the house.
You must follow the tracking and make arrangements with the courier should you miss the delivery. Failing to do so will result in mats being returned and a new delivery fee being applied. We try and get the mats / bootliners made overnight and sent next day. You can expect to receive your purchase within 48 hours from dispatch, however please note that during exceptionally busy times of the year delivery can take 7- 10 days, although this is very rare.
Carmats2u cannot be held liable for any delays caused by the customers not responding to our queries or missing details off their order form. This will cause delays and will slow the system down.
Therefore it is imperative that the customer states a contact telephone number and email address they regularly access on their order form
By ordering you are agreeing to these terms.

OVERSEAS CUSTOMERS.
If you are a NON UK based customer , you MUST choose your correct country for delivery as you will not receive any goods if you choose the wrong country for delivery . Carmats2u will not be held liable for any additional import taxes imposed by your own country . By ordering from us you are agreeing to these terms of sale"
Carmats2u cannot be held liable for any delays caused by the customers not responding to our queries or missing details off their order form. This will cause delays and will slow the system down.
Therefore it is imperative that the customer states a contact telephone number and email address they have regularly access on their order form
Returns.
14 Day Return Policy. Accepted if customer returns within 14 days.
Returns are only accepted on faulty products, All our car mats are quality and we are proud to say that we have never had a set of car mats returned as faulty. This is because we check our mats at every stage of production ensuring a great service to you. We manufacture exactly to the pattern shown on the page.
PLEASE ENSURE THAT YOU HAVE ORDERED FOR THE CORRECT VEHICLE MODEL.
IF YOU ARE UNSURE ABOUT THE COLOUR OF YOUR FLOOR MATS, YOU MUST ASK FOR A COLOUR SAMPLE BEFORE ORDERING.
WE CANNOT ISSUE A REFUND ON FLOOR MATS MANUFACTURED TO ORDER, IF THE COLOUR IS NOT TO YOUR LIKING. PLEASE CHECK WITH US PRIOR TO ORDERING IF UNSURE.
Colours are as shown.
Strictly no refunds after manufacture on Logos or personalised car mats. Personalised means mix of colours plus trims.
Personalised means anything other than black mats with black trim.
By adding coloured trim or personalised logo you are customising the mats, These are none returnable and none refundable unless we have made an error with your order. By Ordering you have read, understood and agreed to these terms.
IF ANY MISTAKES ARE THE FAULT OF CARMATS2U WE WILL REPLACE THE CUSTOMER'S ORIGINAL ORDER FREE OF CHARGE.
The customer agrees to allow Carmats2u to rectify and replace any incorrect orders firstly.
Missed deliveries or incorrect shipping information is the responsibility of the customer.
In the event of free delivery offers must return at your own cost as you will not have paid for any delivery.
The mats are as described on that particular page and no images from other pages should be used to illustrate your issue.
It is fully explained on your items page.
In the event of the client receiving the wrong mats. The client must contact us including description of why the client thinks the mats are wrong. We may ask for this to be accompanied by a photograph. We cannot accept reasons such as "dont fit", or " I don't like the colour". If in doubt, please check with us prior to ordering.

In the rare event that the factory have made a mistake we will issue a returns slip for you without delay. A refund will be issued on receipt of the mats. Please remember if you have ordered mats incorrectly by mistake we cannot be held responsible for a refund.
Again, If no images accompanying the complaint are received then the complaint will not be accepted.
The car mats are tailored exactly to a specific template for your vehicle and although this may not be the exact shape as originals will certainly fit
On the odd event of there being any query we will ask for the vehicle registration and images to show what the complaint refers to. This is to do a model check & to inspect any query. Failure to supply the info so that we can help will mean in the claim being null & void.
By ordering the customer agrees to the conditions of sale.

THE CARPET GRADES.
Our carpet grades are exactly as described. Our website is the most informative available.
The mats will be supplied exactly in the grade ordered so please do not reply stating that they are not the same as the ones you had in. The ones you have in may be a different grade. We will not refund in these instances as the grades are described on the page and its the customer that chooses the grades.
No refunds are available for this. If in doubt ask or choose a higher grade.
TRIMS
LEATHERETTE, LEATHER look edge
This is a leather look leatherette trim that can be added to the platinum or premier grades. Please note this is NOT real leather.
The edging options are as follows.
Standard ribbed.
Twin colour two tone,
or leather look trim.
If the customer orders leather look trim you will receive leather look trim
Two tone striped edge is not leatherette.
If you choose black mats and black/grey edge but choose leatherette edge you will receive the black mats with grey leather look trim
By ordering you agree to have understood this.
It is clearly written on the page.

HEAVY DUTY RUBBER MATS. (BLACK ONLY)
These Heavy Duty Rubber mats are real rubber and so will smell of rubber when new.
Please leave in garage or even outside for a day before installing.
Please note. RUBBER MATS MAY SMELL OF RUBBER WHEN NEW.
PLEASE UNDERSTAND THIS WHEN ORDERING.
Please don't email quoting rubber mats smell of rubber as of course they will have a rubber odour when new as they are not moulded UPVC.
WE DO NOT ADD LOGOS TO RUBBER MATS AS IT CANNOT BE DONE.
Customers who order rubber mats and then try and order a logo will only receive the rubber mats without a logo. The logo cost will be immediately refunded. As our system is automated. The customer agrees that he or she understands these terms of sale.
FIXINGS.
If the template doesn't show fixing holes on the mats then we supply our own fixings for drivers mat. Some of our mats do not have the holes in. Where this is the case we will supply our own fixings for the drivers mat.
Please make sure you understand this as once we have custom manufactured the mats it is too late and we cannot issue a refund.
Please check with us prior to ordering if you are unsure

BOOT LINERS.
The boot liners are fully Moulded durable plastic fitted boot liners with 5cm anti spill lips specific to the vehicle. With a 5.5cm-6cm protective lip, this will ensure that all dirt and water remains within the boot liner and the central anti-slip area helps limit movement to any product/s carried.
Perfectly fit the boots of the respective car models,

Manufactured from durable plastic/PVC

Waterproof and odourless,

Resistant to high (up to +80°C) and low (up to -40°C) temperatures,

Resistant to oils and chemical spillage,

Protective lip on the outline to trap water and dirt

Flexible and light which provides for easy installing and removing in/from the boot,

Easily rolled up for transportation and storage which provides for costs

Very easy to clean: just wipe or hose them down

If your car is a convertible then order the convertible or CC etc option.
Please note: In the event that we agree to take the mats back as a good will gesture, the customer is responsible for shipping cost plus an additional 20% restocking fee. This is to cover charges we incur plus, As we will have to store and try to resell these made to order mats to another customer ordering exactly the same product. This mat take some time or indeed not happen.
By purchasing you agree to these terms and conditions of sale.

IN THE EVENT OF FREE DELIVERY OFFERS THE CUSTOMER MUST RETURN AT THEIR OWN COST WITHIN 14 DAYS.
LOGO'S.
WE DO NOT OFFER BRANDED LOGO`S FOR COPYRIGHT REASONS.
If you are looking for Branded logo`s then you need to buy the official mats from the manufacturer of your cars at the extra costs.
Our logos are to personalise the mats. If you add a make on the mats for a logo we can add it but in TEXT, not a badge. One word maximum, or a max of 7 letters. no multiple words can be added to the mats.
Please be sure that you understand this before ordering as we will not refund on these tailored to order mats. Please read the full description. It is there to help you. Email us before ordering if unsure. By ordering you are agreeing to the terms and conditions of sale on this page.
If an Image or anything other than text format, You will need to email the image, state what size you require the image, also the position on the mats. No request will mean our factory will put the image onto the edge of the mat door side at our basic size.
BY ORDERING YOU AGREE AND UNDERSTAND THIS.
Please note. We cannot refund on these mats if no request was with the order. These are deemed none returnable.
Our Logos are heat sealed and not embroidered. Images are shown on the website and are examples of heat sealed logos. If unsure always ask first.

Example below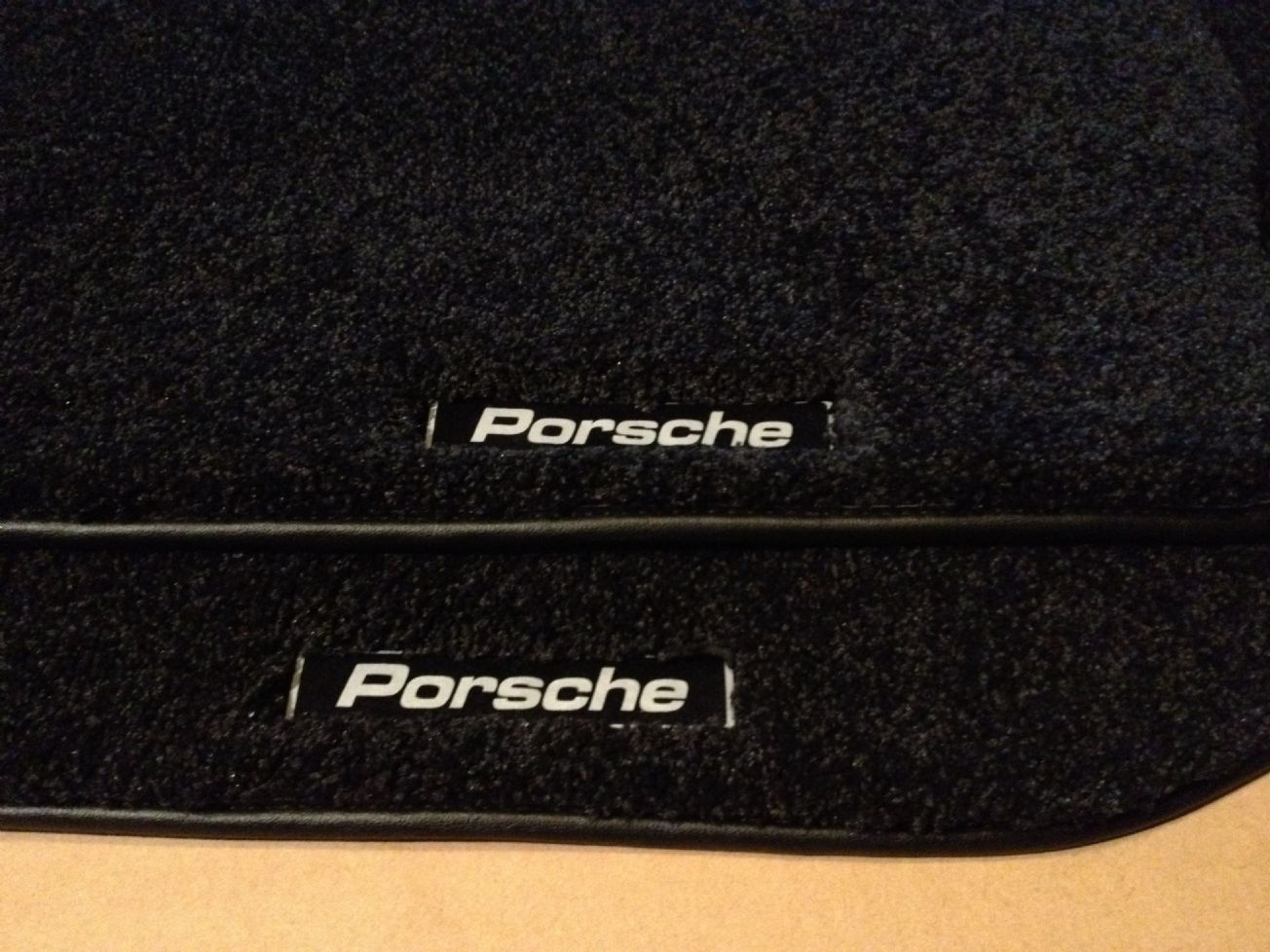 BE SURE BEFORE ORDERING, IF UNSURE PLEASE ASK.
Edgings.
Please read carefully and be sure to contact us if unsure.
Leather look binding is only available on Super Luxury grade mats .The drop down menu will state premier super lux only. If you have not ordered super lux mat or platinum grade you will NOT receive leather look edging. Customers ordering leather edge but on a standard or luxury mat set will receive the colour desired but standard coloured binding.
Orders are automated and go straight to the factory. We cannot be held responsible for orders made by mistake .
However. Please read our descriptions as the pattern that you see is the pattern that will be manufactured so if a customer orders the wrong mats we cannot refund as we manufacture to that order..
Always ask before ordering if you are unsure, we will be happy to help.
Heavy Duty rubber is available in black only with leatherette edge. You may choose a coloured leatherette edge on this grade.
These mats are Black only, As described on the website. All rubber tailored orders will be manufactured in black. Please read description fully as we cannot be held responsible for oversight as mats are made to order automatically.
Customers ordering these mats will receive rubber tailored mats in black. IF UNSURE PLEASE ASK. We will NOT Be able to offer refunds If the customer has not read these terms as all mats are manufactured to order and are a tailored bespoke product.
Our car mats are made in order to fit the vehicles, some have clips, some include our standard clip if we do not have them but it will always be explained on the website. The rubber mats are cut from rubber and at first will be a slight odour of rubber as to be expected. We will not accept returns if mats are ordered by mistake as we make tailored to order.
Mats that are cut to fit cannot be returned so please be sure before ordering.
Delivery.
We aim to get our shipments out within 4 -7 days "based on standard mats in black" But clients should allow up to 10 days for the coloured custom mats to arrive although its very rare that orders take over 5 days. As a safety measure we state allow ten days.
Clients should be prepared to wait up to 10 days as a backstop. Although as we say, we aim to get mats cut and sent as soon as possible. All mats are custom manufactured to order so please be patient.
We sell over 160 sets of mats every week to our respected clients all over the UK and will help where possible.
Mats are quality controlled and are made to order. Therefore we cannot refund mats that do fit but you dont like on receipt. EG. "wasnt what i expected" The mats are manufactured as described and therefore we will not be held responsible if the client decides they dont like what they ordered.
In these cases we may offer a refund to you but you must pay your own shipping to return the mats.This is at our decision.
MATS.
Most have original fixings, some use velcro fixing sytem. And some mats we include our own approved fixings to secure your mat. We do not state all mats have original fixings and all images are generic to show the edgings and materials as with over 11,000 products its impossible to do so. Not the exact fixings etc. We always supply a fixing but obviously these are mats that fit not manufacturers mats as these are more expensive by far. PLEASE ASK US. We cannot offer a refund if you order and we make them and you are expecting something different.We are here to help so please ask if you need confirmation of this firstly. We will not offer a return if this hasn't been followed through.

Please read these terms of sale carefully before placing your order and retain a copy of these terms and your order for future reference
1. Format of the Contract
1.1 These terms of sale apply to all goods supplied by carmats2u., (the "Supplier").
1.2 No contract exists between you and the Supplier for the sale of any goods until the Supplier has received and accepted your order.
1.3 An acceptance of your offer to buy the goods will be sent shortly after your order. However, we do have the right to terminate the contract in the event that the goods are unavailable, mis-priced or cleared funds are not received.
1.4 The contract is subject to your right of cancellation (see below).
1.5 The Supplier may change these terms of sale without notice to you in relation to future sales.
2. Description and price of the goods
2.1 The description and price of the goods you order will be as shown on the Suppliers website at the time you place your order. Every effort is made to describe and show representative images of products and colours. Should car mats be ordered and certain colours may be not clear on computer monitors, you should contact us for a sample colour swatch to be sent.
2.2 The goods are subject to availability. If on receipt of your order the goods you have ordered are not available in stock we will not accept your order. If after acceptance or job order the Supplier discovers within [14 days] of our acceptance of your order that the goods are unavailable we may terminate the contract and refund or re-credit you for any sum that has been paid by you or debited from your credit card for the goods.
2.3 Every effort is made to ensure that prices shown on the Suppliers website are accurate at the time you place your order. If an error is found within 14 days of accepting your order, the Supplier will inform you as soon as possible and offer you the option of reconfirming your order at the correct price, or cancelling your order. If the Supplier does not receive an order confirmation within 14 days of informing you of the error, the order will be cancelled automatically. If you cancel the order, or if the order is cancelled automatically due to the expiry of the 14 day period, the Supplier will refund or re-credit you for any sum that has been paid by you or debited from your credit card for the goods.
2.4 In addition to the price, you may be required to pay a delivery charge for the goods.
3. Payment
3.1 Payment for the goods and delivery charges can be made by any method shown on the Suppliers website at the time you place your order. Payment shall be due before the delivery date and time for payment shall be a fundamental term of this agreement, breach of which shall entitle the Supplier to terminate the contract immediately.
3.2 There will be no delivery until cleared funds are received.
3.3 Payments shall be made by you without any deduction whatsoever unless you have a valid court order requiring an amount equal to such deduction to be paid by the Supplier to you.
4. Delivery
4.1 The goods you order will be delivered to the address you give when you place your order, except that some deliveries are not made outside the United Kingdom.
4.3 If delivery cannot be made to your address for reasons under the Suppliers control the Supplier will inform you as soon as possible.
4.4 If you deliberately fail to take delivery of the goods (otherwise than by reason of circumstances under control of the Supplier) then without prejudice to any other right or remedy available to the Supplier , the Supplier may:
4.4.1 store the goods until actual delivery and charge you for reasonable costs (including insurance) of storage; or
4.4.2 sell the goods at the best readily obtainable price and (after deducting all reasonable storage and selling expenses) account to you for any excess over the price you agreed to pay for the goods or charge you for any shortfall below the price you agreed to pay for the goods.
4.5 If you fail to take delivery because you have cancelled your contract under the Distance Selling Regulations the Supplier shall refund or re-credit you within 30 days for any sum that has been paid by you or debited from your credit card for the goods. On exercising your right to cancel you shall be required to return the goods to the Supplier. Should you fail to return the goods, the Supplier reserves the right to deduct any direct costs incurred by the Supplier in retrieving the goods as a result of such failure.
4.6 Every effort will be made to deliver the goods as soon as possible after your order has been accepted. However, the Supplier will not be liable for any loss or damage suffered by you through reasonable or unavoidable delay in delivery. In this case, the Supplier will inform you as soon as possible.
4.7 Upon receipt of your order you will be asked to sign for the goods received in good condition. If the package does not appear to be in good condition then please refuse the delivery. If you are unable to check the contents of your delivery at the point of delivery then please sign for the parcel as "UNCHECKED". Failure to do so may affect any warranty claims that you make thereafter.
5. Risk/Title
5.1 The goods are at your risk from the time of delivery.
5.2 Ownership of the goods shall not pass to you until the Supplier has received in full (in cash or cleared funds) all sums due to it in respect of:
5.2.1 the goods, and
5.2.2 all other sums which are or which become due to the Supplier from you on any account.
5.3 The Supplier shall be entitled to recover payment for the goods even though ownership of any of the goods has not passed from the Supplier.
6. Your right of cancellation
6.1 To exercise your right of cancellation, you must give written notice to the Supplier by hand, post or the contact section of our website, giving details of the goods ordered and (where appropriate) their delivery. Notification by phone is not sufficient.
6.2 For 'Fully Tailored Specific Fit' car mats sets, it must be understood that this product is, and will be, manufactured to you exacting requirement and will, therefore, be unique to you and your vehicle/model. In this instance, we cannot accept any returns of these, particular, mat sets, unless subject to 6.3.
6.3 Except in the case of faulty or misdescribed goods, if you exercise your right of cancellation after the goods have been delivered to you, you will be responsible for returning the goods to the Supplier at your own cost . You must take reasonable care to ensure the goods are not damaged in the meantime or in transit. In the case of faulty or misdescribed goods we shall, after receiving notification in accordance with clause 8.3 or 8.4, either collect the goods from you or ask you to return the goods yourself and possibly refund you the reasonable postage costs. (Not on orders with free delivery offers)
6.4 Once you have notified the Supplier that you are cancelling the contract, the Supplier will refund or re-credit you within 14 days for any sum that has been paid by you or debited from your credit card for the goods.
6.5 Except in the case of faulty or misdescribed goods, if you do not return the goods as required, the Supplier may charge you a sum not exceeding the direct costs of recovering the goods.
7. Warranty
7.1 All goods supplied by the Supplier are warranted free from manufacture defects for 12 months from the date of supply (unless otherwise stated). This warranty does not affect your statutory rights as a consumer.
7.2 This warranty does not apply to any defect in the goods arising from fair wear and tear, wilful damage, accident, negligence by you or any third party, use otherwise than as recommended by the Supplier, failure to follow the Suppliers instructions, or any alteration or repair carried out without the Suppliers approval.
7.3 If the goods supplied to you are damaged on delivery, you should notify the Supplier in writing via the contact section of the webiste within 7 days.
7.4 If the goods supplied to you develop a defect while under warranty or you have any other complaint about the goods, you should notify the Supplier in writing via the contact section of the website, as soon as possible, but in any event within 14 days of the date you discovered or ought to have discovered the damage, defect or complaint.
8. Limitation of Liability
8.1 Subject to 8.2 below, if you are a consumer the Supplier shall not be liable to you for any loss or damage in circumstances where:
8.1.1 there is no breach of a legal duty owed to you by the Supplier or by its employees or agents;
8.1.2 such loss or damage is not a reasonably foreseeable result of any such breach;
8.1.3 any increase in loss or damage resulting from breach by you of any term of this contract.
8.2 Nothing in these conditions excludes or limits the liability of the Supplier for death or personal injury caused by the Suppliers negligence or fraudulent misrepresentation.
8.3 If you are a business customer the Supplier shall not be liable to you for any indirect or consequential loss or damage (whether for loss of profit, loss of business, depletion of goodwill or otherwise),costs, expenses or other claims for consequential compensation whatsoever (howsoever caused) which arise out of or in connection with this agreement.
9. Data Protection
The Supplier will take all reasonable precautions to keep the details of your order and payment secure but unless the Supplier is negligent, the Supplier will not be liable for unauthorised access to information supplied by you.
10. Images
Product images are for illustrative purposes only and may differ from the actual product.
These terms of sale and the supply of the goods will be subject to English law and the English courts will have jurisdiction in respect of any dispute arising from the contract, save that consumers resident in Scotland shall have the right to insist upon these terms being construed in accordance with the laws of Scotland and to submit to the jurisdiction of Scottish courts.